Linkfor Property Inspections are your truly independent building inspectors.
Linkfor Property Inspections gives you peace of mind by providing a comprehensive, professional property inspection report. Thorough examination of the house or apartment, and any other buildings on the property, is carried out by an accredited builder and designer.
Why do I need a pre-purchase inspection?
A professional property inspection identifies defects and also provides recommendations for remedial work.
Examples of typical major defects in a home are:
Poor drainage that affects foundations and timber framing
Leaks in roofs, poor flashings, sub standard framing and undersize beams and timbers
Dangerous structures and safety hazards of poorly constructed buildings.
Cracks and subsidence of masonry walls
Dangerous wiring
Leaky plumbing
Sub-standard fittings and fixtures
Better to be informed about potential problems before you commit to the purchase.
Why should I choose Linkfor to inspect my property?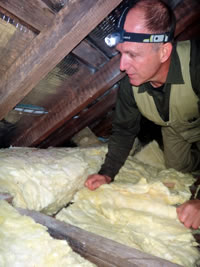 Choosing an inspector is a question of value for money. We endeavour to offer excellent service, good communication and a detailed report with careful explanations.
We work for you, not the agent or property owner, and keep only your interests in mind.
A thorough report is likely to be of far more value to you than the relatively small fee you pay. A comprehensive, independent property report may save you thousands off the asking price, or alert you to potential costs of repairs and maintenance.
How much will it cost?
A pre-purchase inspection for an average 3-bedroom house in the Hobart area, with digital photos, a comprehensive summary and room by room details, will typically cost $480 including GST. The report is typically around 14 to 18 A4 pages. It is sent by email and can be printed out as a Word document.
Smaller properties involving minimal travel may be cheaper, while some large properties can mean a slight increase in cost relative to the property size and location.
It would have cost us thousands of dollars to get the house back to a liveable standard. Thanks Ian and staff."

Bill, Ranelagh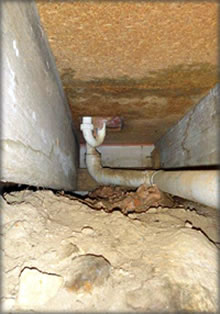 Insufficient ground clearance under floor joists and evidence of damp under shower floor
Linkfor are master builders
If you want to build from scratch, or refurbish, or do an extension, Linkfor can give you an obligation-free quote.